Elephant Bathe & Breakfast + Ubud & Mount Batur Sightseeing
Ubud Waterfalls, Jungle Swing + Cultural Highlights

Taste the Luwak occasional & play rope swing & bird nest at Celuk Swing
---
Here you'll be shown the traditional way of making Luwak (civet cat) coffee and fascinating information behind it as well as tasting 10 samples of different coffee & tea varieties. Afterwards, take your adventure to the full-fledged playground with swings and bird nest perfectly overlooking the panoramic Ubud greeneries.
Interact with macaques at Ubud Sacred Monkey Forest
---
Built in the middle of 14th century, this renowned monkey habitat and conservation center is often highlighted as a mandatory visit for every traveler. Located precisely in the busiest part of Ubud, it serves as a demonstration of harmonious coexistence between humans and nature where spiritual and physical world collide.
Walk the famous Tegalalang Rice Terrace, a UNESCO World Heritage Site
---
This famous paddy field was made a UNESCO World Heritage Site for being the embodiment of the Balinese irrigation system & agrarian societal code known as Subak. Take a walk on the slope across the valley and witness local farmers' activities as they plant, monitor and harvest the rice fields, depending on time.
Purify your body & soul at Tirta Empul (Holy Spring) Temple
---
Located at 700 meters above sea level, the holy spring complex of Tirta Empul Temple allows everyone to breathe cool air while purifying their body and soul. It is believed that Lord Indra, one of highest deities in Hinduism built this place with healing purpose when he waged a war against an evil king. We recommend you to spend some times strolling around the outside section before or after taking a dip in the pool.
Splash and jump around the big cascade of Tegenungan Waterfall
---
As the most popular waterfall in Ubud, Tegenungan is definitely not a secret, but has its own perks of easy access and facilities. After getting through entrance you will take a 5-minute walk down the trail (about 100 steps) which is fairly easy thanks to the well-maintained pathway. Upon downward, you may be greeted by inexperienced vale panorama before reaching the cascade wherever you'll be able to swim, take photos and do loads fun on your own.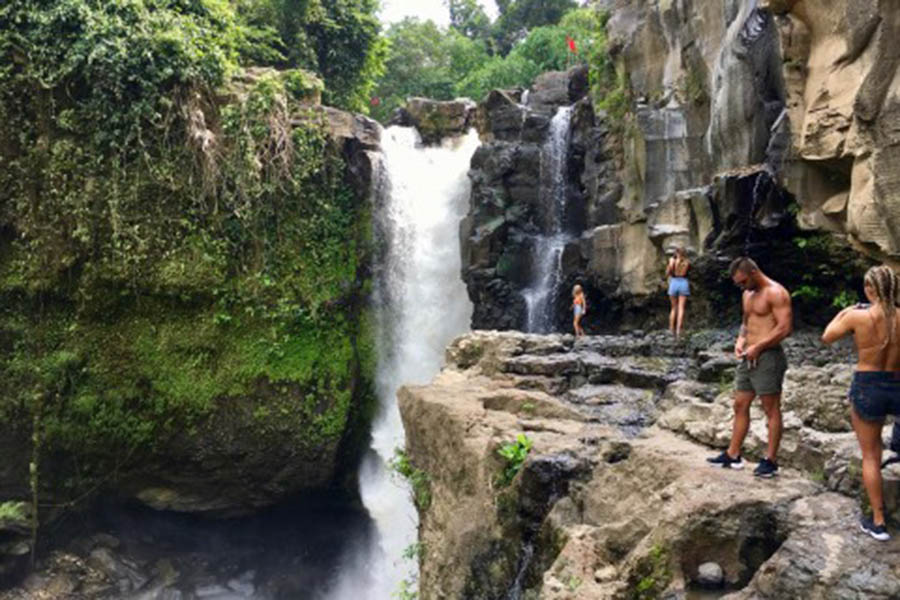 Tour Itinerary
Private air-conditioned hotel transfers
Experienced driver as guide
Entrance tickets to all attractions
Access to Swing & Bird Nest playground
Parking fees to all attractions
Lunch
Bottled water
Mandatory Sarong when entering temples
Coffee & tea sampling at the plantation
Express toll roads (whenever apply)
Tour Inclusions
Private air-conditioned hotel transfers
Experienced driver as guide
Entrance tickets to all attractions
Access to Swing & Bird Nest playground
Parking fees to all attractions
Lunch
Bottled water
Mandatory Sarong when entering temples
Coffee & tea sampling at the plantation
Express toll roads (whenever apply)
Tour Exclusions
Snacks to feed the macaques at Ubud Sacred Monkey Sanctuary